[cmsms_row data_width="boxed" data_color="default" data_padding_top="40″ data_padding_bottom="0″][cmsms_column data_width="2/3″][cmsms_heading type="h3″ font_weight="bold" font_style="normal" text_align="left" color="#8e393d|100″ margin_top="30″ margin_bottom="20″ animation_delay="0″]All About Cats Shelter Animals Count 2016 Data[/cmsms_heading][cmsms_text animation_delay="0″]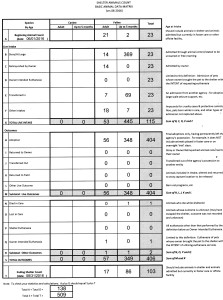 [/cmsms_text][cmsms_image align="center" caption="All About Cats Participates in the Million Cat Challenge http://www.millioncatchallenge.org/data-portal/data-entry" link="http://www.allaboutcats.org/wp-content/uploads/2015/12/maddies-fund_square_color.jpg" animation_delay="0″]4718|http://www.allaboutcats.org/wp-content/uploads/2015/12/maddies-fund_square_color-300×255.jpg|medium[/cmsms_image][/cmsms_column][cmsms_column data_width="1/3″][cmsms_featured_block text_width="100″ text_position="center" text_align="left" fb_bg_color="#ffffff|100″ bg_img="3872|http://allaboutcats.org/wp-content/uploads/2015/02/02-300×169.jpg|medium" bg_position="top center" bg_repeat="no-repeat" bg_attachment="scroll" bg_size="contain" top_padding="0″ bottom_padding="150″ animation_delay="0″]
All About Cats Rescue is proud to have a 97% Life Saving Percentage Rate for 2016
All About Cats Rescue has chosen to make their data public and participate in The Animal Sheltering Count effort.
To View All About Cats Data follow this link http://data.shelteranimalscount.org/shelter-console/dashboard
Shelter Animals Count is a collaborative effort with broad representation from the animal welfare community. By creating standardized reporting and definitions for shelter statistics including intake, adoptions, return-to-owner, transfers, euthanasia and shelter deaths, we will increase live outcomes. The goal of this project is to have a complete national database with 100% shelter participation.
To learn more about this project and to participate visit http://www.shelteranimalscount.org
[/cmsms_featured_block][cmsms_image align="left" link="http://www.allaboutcats.org/wp-content/uploads/2015/01/img-petsinhome16bf9109e62a6e8587d7ff00000a57fa.png" animation_delay="0″]4725|http://www.allaboutcats.org/wp-content/uploads/2015/01/img-petsinhome16bf9109e62a6e8587d7ff00000a57fa.png|full[/cmsms_image][cmsms_gallery layout="hover" hover_pause="5″ animation_delay="0″][/cmsms_gallery][cmsms_image align="none" caption="All About Cats Rescue participates in the Million Cat Challenge http://www.millioncatchallenge.org/data-portal/data-entry" link="http://www.allaboutcats.org/wp-content/uploads/2016/09/logo-millioncatchallenge2016.png" animation_delay="0″]4776|http://www.allaboutcats.org/wp-content/uploads/2016/09/logo-millioncatchallenge2016.png|full[/cmsms_image][/cmsms_column][/cmsms_row][cmsms_row data_width="fullwidth" data_padding_left="0″ data_padding_right="0″ data_color="default" data_padding_top="30″ data_padding_bottom="0″][cmsms_column data_width="1/1″][cmsms_divider width="long" height="1″ style="solid" position="center" margin_top="0″ margin_bottom="0″ animation_delay="0″][cmsms_image align="center" caption="http://data.shelteranimalscount.org/shelter-console/dashboard" link="http://www.allaboutcats.org/wp-content/uploads/2016/09/shelter-animals-count.jpg" animation_delay="0″]4772|http://www.allaboutcats.org/wp-content/uploads/2016/09/shelter-animals-count.jpg|full[/cmsms_image][/cmsms_column][/cmsms_row][cmsms_row data_padding_bottom="50″ data_padding_top="0″ data_color="default" data_width="boxed"][cmsms_column data_width="1/1″][cmsms_heading type="h3″ font_weight="700″ font_style="normal" text_align="center" color="#8e393d|100″ margin_top="50″ margin_bottom="10″ animation_delay="0″][/cmsms_heading][cmsms_posts_slider orderby="date" order="DESC" post_type="project" portfolio_categories="adult-cats" columns="3″ count="12″ pause="5″ portfolio_metadata="title,categories,likes" animation_delay="0″][/cmsms_column][/cmsms_row][cmsms_row data_padding_bottom="0″ data_padding_top="30″ data_color="second" data_width="boxed"][cmsms_column data_width="1/1″][cmsms_sidebar sidebar="sidebar_bottom" layout="14141414″][/cmsms_column][/cmsms_row][cmsms_row data_width="boxed" data_padding_left="3″ data_padding_right="3″ data_color="default" data_bg_position="top center" data_bg_repeat="no-repeat" data_bg_attachment="scroll" data_bg_size="cover" data_bg_parallax_ratio="0.5″ data_padding_top="0″ data_padding_bottom="50″][cmsms_column data_width="1/1″][cmsms_image align="center" animation_delay="0″]http://www.allaboutcats.org/wp-content/themes/pet-rescue/framework/admin/inc/img/image.png[/cmsms_image][/cmsms_column][/cmsms_row]