Cassie's Story is Just One of the Hundreds of Stories …..Please Donate So Our Work Contnues

Securely Donate via PayPal
Thank you for your interest in helping the rescued cats at All About Cats. The animals depend on your kindness. There are many ways you can help: by donating your volunteer time, money, in-kind gifts, or by fundraising. Every little bit helps!
About Monetary Donations
All About Cats Rescue is a recognized 501(c)(3) not-for-profit organization. All donations are tax deductible and the kitties will love you for it. You can make a secure donation online or mail a check if you prefer to All About Cats Rescue, 111 East Sunrise Highway, Freeport 11520.
Donate Through Our Amazon Wishlist
Amazon Wishlist is similar to a wedding registry. You can browse through our most needed items, purchase them on Amazon, and they will be shipped directly to us!
The cats thank you from the tips of their ears to the bottom of their paws.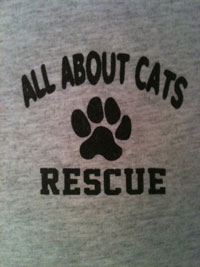 Fundraising
If you are interested in doing fundraising to support All About Cats, please contact us at 516.379.CATS or send us an email using our Contact form.
Buy a T-Shirt
Stop by the store and buy an All About Cats t-shirt to support our rescue mission.